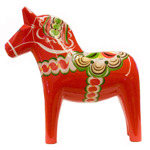 The Dala Horse has become a symbol of Sweden. The colourful horse originally stems from the Dalarna region, where many ancient traditions are still alive and kicking. The bright colours are a source of cheer in the dark winter months, and provide warmth on cold nights.

For as long as anyone can remember, horses have been our trusty companions in the woods, in the fields, and as we made our way to market, to the mill and to church.

The people in the towns around Mora (the home of the famous Swedish artist Anders Zorn, 1860–1920) were skilful and industrious folk, and the art of carving horses grew rapidly. It was not long before the Dala Horse became a cherished souvenir linked not only with Dalarna, but also with Sweden as a whole.

Emigrants took the tradition with them to America, and brightly painted Dala Horses are still to be found there today – tangible proof of a heritage handed down from the earliest Swedish immigrants.

At the end of the working day, it was quite usual to sit at home carving little wooden horses and giving them to children to play with.

In the 1800s, it became more and more common to paint these wooden horses in a more artistic fashion, drawing inspiration from local murals.

With this little chocolate Dala Horse, we would like to present a new take on our national symbol. We hope that it is to your taste and that, at the same time, it inspires you to discover new aspects of our fascinating country.